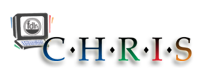 The New User Training session is designed for new CHRIS users and users that have not yet attended a formal training. This hands-on training session is conducted in a computer lab in Miami or at a FDLRS site. The training includes:
CHRIS data entry basics
Program features
CHRIS questions and review
All users that have not been able to attend a New User Training session are required to complete the online CHRIS Interactive Training prior to gaining access to the CHRIS program. A passing grade of 80% or greater is required. Please download the User Manual to assist you in answering these questions.
The interactive training is based on the User Manual and it should take about 10–15 minutes to complete. A CHRIS representative will contact you after you have submitted the materials. If you need any additional assistance, please contact the Help Desk.
In addition to passing this exam, the local data facilitator must complete the New User Data Form to assign the user a unique username and password.
All new users must attend a hands-on New User Training session. The interactive training is meant as a temporary solution in cases where a user needs to use CHRIS before he/she can attend a training.