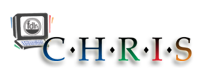 The CHRIS Project provides training for all new users, new data facilitators, and experienced users who would like to review the features and functions of CHRIS in more detail.
The following training sessions are available:
Request Training
To schedule or request a training please contact the CHRIS Help Desk at (800) 231-5747 or e-mail us at chris.um@miami.edu and provide the following information:
How many users at your center need training? (Please provide Name, Address, and E-mail for each user.)
What type of training is desired?
Are your users able to travel within the State of Florida?
Locations
Miami
Training sessions are offered at the University of Miami Coral Gables campus. Training sessions are held in the Training Lab in the Department of Psychology, Flipse Building. Guest parking is available. Hotel accommodations are also available at Holiday Inn Coral Gables – University of Miami.
Regional (Travel Required)
Training sessions are also conducted at FDLRS centers. To host a CHRIS training session, FDLRS centers must meet the following requirements:
Have the appropriate number of trainees: optimal 8–12, minimum 6.
Have the appropriate number of computers in a laboratory for trainees.
Set up the facility and coordinate among the trainees in your region.
Note: The computer lab must be reserved for two days. The day of the actual training and the day before the training so that the CHRIS team can set up the lab with all the materials needed for the training. Hotel accommodations vary by center location.