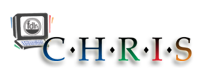 The 1986 Handicap Prevention Act (Chapter 411, F. S.) mandated the establishment of local registries and information sharing systems on the pre-kindergarten at-risk and handicapped population. The Children's Registry and Information System (CHRIS) project maintains the computerized implementation of those local registries. The CHRIS database is a statewide registry of children who have disabilities that may affect their future school performance and children who may be at-risk of developing such disabilities. The statutory authority for CHRIS is Section 411.203, Florida Statutes (F.S.), entitled "Continuum of comprehensive services."
The CHRIS database is used at Florida Diagnostic and Learning Resources System (FDLRS) centers to register children for whom special services may be needed. The primary target population consists of children referred for services under the Individuals with Disabilities Education Act (IDEA) Part C (birth to 3 years of age) and Part B (3 to 5 years of age). Other children known to the interagency network of service providers may also be included in the registry.
The purpose of the CHRIS project is to expand and improve the capability and use of the CHRIS database as the tracking, reporting, case management, and planning tool for IDEA Part B Child Find activities. Information stored in CHRIS is used to project the needs of the service delivery system to ensure adequate capacity to meet the needs of children entering the public school system during preschool. CHRIS is also used to create reports for the Bureau of Exceptional Education and Student Services (BEESS) and to provide information to service providers. The data provided in CHRIS assist in the provision of educational opportunities in the least restrictive environment that are focused on improved academic performance and successful school completion.
CHRIS Database:
Users
The CHRIS program is used in every Florida Diagnostic and Learning Resources System (FDLRS) center to register children ages birth through seven years for whom special services may be needed. The data provided by the CHRIS database meet the needs of a wide range of users including:
Child Find Specialists
School District Administrators
Exceptional Student Education Directors
Event Tracking Timelines
The CHRIS database contains the following information for preschool children throughout the State of Florida who have been referred to FDLRS:
Part C to Part B Transition
Screening
Evaluation
ESE Eligibility
Individual Education Plan/Individual Family Service Plan
Service Coordination
Service coordination information (e.g., Appointments, Referrals, Contact Logs, Follow-up Actions Needed) may be entered into the database and is available for service providers who work with individual children to ensure the efficient use of time and resources.
Reports
The CHRIS program includes two reporting options:
Standard Reports: The Standard Reports program includes a variety of commonly used reports.
Reporter Reports: The Reporter program allows users to create custom reports and queries on individual and multiple events using all fields in the CHRIS software program.
The staff at the FDLRS centers are assisted with data entry, report generation, and technical issues pertaining to CHRIS in a number of ways:
CHRIS Help Desk (800) 231-5747: The CHRIS Help Desk is staffed by CHRIS personnel who provide technical assistance and support to CHRIS users.
CHRIS Help Screen: The CHRIS Help screen is accessible from all screens within the CHRIS program and contains screen layouts and all field definitions.
Online Resources: A variety of resources (e.g., training manuals, Field Reference Guide, FAQ) are available from the Support section of this website.
A variety of training sessions are available to CHRIS users. Hands-on training sessions are conducted throughout the state as needed. Online training sessions are also available in which a member of the CHRIS technical support staff dials into the user's computer to provide live on-line training on any topic. Manuals and other training materials are distributed at training sessions and are available from the Training section of this website.