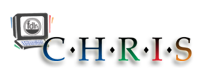 CHRIS Frequently Asked Questions
Access
Contact your local CHRIS data facilitator to gain access to the CHRIS program. To request a new user account the data facilitator needs to complete the New User Data Form. All new users need to attend a New User Training session. If immediate access is necessary, the new user can review the User Manual and take the CHRIS Interactive Training.
How do I get an account name and password?
An account name and password are required to access CHRIS. The data facilitator provides users with a unique account name. The most common account name is derived from the user's first initial and last name. Each user should choose his/her own password. Passwords should be five to eight characters long and include numbers and/or special characters (names of family members or pets are not good passwords). Passwords should not be shared with anyone.
My password does not work or I forgot my password, what should I do?
Contact your local CHRIS data facilitator or call the CHRIS Help Desk. The CHRIS Help Desk can reset your password.
Why do I need two logins to access CHRIS?
The first login allows you to establish a secure connection with the CHRIS project in the Citrix network. You need to enter your user name and a common Citrix password that you will share with the rest of the users at your site. Clicking the CHRIS Gold icon will take you to the second login screen. The second login allows you to access the CHRIS database. You need to enter your account name and the personal password you chose when initially registering for a CHRIS account.
What are the system requirements for CHRIS?
Internet access. Typically, Internet access is granted from your Local Area Network (LAN).  Once you have Internet access go to CHRIS Gold Citrix Login Portal.
Citrix client. The Citrix client can be downloaded from the Citrix section of this website. For assistance, contact your data facilitator or the CHRIS Help Desk.
CHRIS is available 7 days a week, 24 hours a day with the exception of a short 1-2 hour interruption on most Friday afternoons to perform routine maintenance.
Why was I logged out of CHRIS?
This is a security feature designed to protect children's confidentiality. You will be logged out of your CHRIS session after 20 minutes of idle time. After 2 hours of idle time, you will be disconnected from Citrix and CHRIS Gold. To log back in, enter your username and your site's Citrix password (see "Why do I need two logins to access CHRIS?" above).
I cannot connect to CHRIS, what should I do?
Check your Internet connection. Open a web browser and determine whether the Internet is working. For example, visit a popular website such as Google. If the problem appears to be your Internet connection, contact your IT department. If you are unable to determine the cause of the problem, contact your data facilitator or the CHRIS Help Desk.
Yes. You can access CHRIS from home provided you have: Internet access, the Citrix client (Contact your data facilitator or the CHRIS Help Desk for assistance), and authorized access to CHRIS (use the same username and passwords that you use at your office).
Can I print CHRIS reports from home?
Yes. You can print CHRIS reports from home. If you can access CHRIS at home but are unable to print reports and related documents, contact the CHRIS Help Desk for assistance.
Data Entry
Should a timeline be created for children younger than 3 years?
Refer to the CHRIS Timeline Guidelines flow chart to determine whether or not it is appropriate to create a timeline for a child younger than 3 years.
I found a duplicate record. Can I delete it?
No. If you discover a duplicate record for a child, you should contact the CHRIS Help Desk to have the duplicate record deleted.
What should I do if I create a new timeline by accident?
Users cannot delete a timeline. If you accidentally create an unneeded timeline, contact the CHRIS Help Desk for assistance.
How do I release/transfer a record to another county?
Only data facilitators can transfer a child's record. Data facilitators should follow the record transfer process described in the Data Facilitator Manual.
When should I use the History event?
The primary use for the History screen is to document Part C services that occur prior to referral for Part B services.
Record Review refers to the review of printed or electronic child records relevant to the Screening or Evaluation activities.
How do I enter information on more than one Screening in the same timeline (e.g., follow-up hearing assessment)?
Screening detail for multiple Screenings should be entered in the detail of the Screening event or in an appropriate Service Coordination event or in History. If a re-screening has occurred during the current Screening event, enter information pertaining to the most recent Screening and put information pertaining to the preceding Screening(s) in the Notes field.
Should I leave the Birth County field blank if child was born outside of Florida?
Yes. The Birth County list only includes Florida counties. If the birthplace is outside Florida, leave the Birth County field blank and enter the state or country in the appropriate field.
Is it OK to cut and paste dates or other data in CHRIS?
Copying and pasting is discouraged because it can result in unexpected errors. Shortcuts in data entry should be avoided. Suggestions for ways to simplify data entry can be submitted for consideration in future versions of the program. In order to submit a request or suggestion, e-mail the suggestion to the CHRIS Help Desk at chris.um@miami.edu.
If entering data into a field that is too small to view all data, how do I view the complete information?
A report can be generated with Reporter where this field can be made any length you wish.
Yes, Race is a required field in CHRIS. If a child is of mixed race, you can select more than one race option (select all the race options that are appropriate). If race information is not available, select "Unknown" or "Parent Refused Designation" as appropriate. The Race field cannot be left blank.
If the social security number of the child is used as the student number, should the social security number be entered into the student number field or only in the social security number field under Critical Info?
Social security number is a confidential item. However, if it is the number your district uses as the student number, it can be entered as the student number omitting the hyphens and adding an X for the tenth digit.
How should children who are referred and already have an active IEP be entered into CHRIS?
If a child has an active IEP, they have already been placed in a Part B program. All data entry should be done through the service coordination events and a new timeline should not be started. You should use the First Contact with FDLRS and Referral In events for these children if you are expected to follow up with them once they have entered the school system. If, however, they are being referred to you because they are being served with a temporary IEP pending Evaluation, you should begin a new timeline with a Screening event and enter appropriate information until the timeline is complete.
If you end a timeline without a service plan date because you do not have a date, can you go back later and put in a date when you get a date?
Once you have ended a timeline you cannot enter another event on that timeline. You should not end a timeline because you do not have the date of a meeting. You should get the date prior to ending the timeline. Days elapsed on the timeline are based on the date of the plan, not on the date you receive or enter the date on the plan, so there is no harm in waiting to end the timeline until you have all of the information for the Part B Service Plan IEP/IFSP event. The timeline should not be ended prematurely just because you are waiting for information. The timeline should be kept open as long as there is something still happening with the child. Service coordination implies follow-up on children to determine the status of the referral until the child is receiving services.
If a timeline has been completed and a child has been placed with an IEP and then leaves the school system, then returns later, should a new timeline be started?
Children who are already receiving Part B services who leave the district should reenter through the regular student transfer process established by the local school district. They are no longer considered "child find" children. A new timeline should not be established on these children.
How do we document when parents do not attend the transition conference but then decide they do want transition services?
If the parent decides they want transition after the child's third birthday, the timeline should begin with a Screening. If the transition conference occurs before the child's third birthday, the timeline would begin with Part C to Part B Transition. The parent behavior regarding missed meetings can simultaneously be documented on the service coordination side of CHRIS using the Appointment event or using the General Contact event in History.
How should we enter data for a child who is referred for Screening prior to the Part C transition conference?
The purpose of the transition conference is to discuss with the parent and others the things that need to be occurring to enable a smooth transition and to develop the transition plan. A referral for consideration for Part B services is premature prior to the transition conference. Any Screening events prior to the Transition Conference should be included in service coordination, not on a timeline.
How do I suggest a change to the CHRIS program?
The Technical Assistance Work Group (TAWG) approves changes to the CHRIS program. In order to submit a request or suggestion to TAWG, e-mail or fax the suggestion to the CHRIS Help Desk.
Help Desk
If your question is related to CHRIS, contact your local data facilitator.
If your question is related to equipment, contact your local technical support team.
If your question is related to the network, contact your local network administrator.
If your local support personnel cannot resolve the problem, contact the CHRIS Help Desk at (800)231-5747 or chris.um@miami.edu.
Reports
What are the CHRIS Site reports?
The Site reports provide a summary of FDLRS Child Find activities by month and year for the three most recent school years.
How can I obtain a copy of the Site reports?
Only the Help Desk can generate Site reports. When you contact the Help Desk you will be asked to specify the type of Site reports needed (Workload or Unduplicated) and the name of the county/counties to be included in the report.
What is the difference between the Workload and Unduplicated Site reports?
The Unduplicated and Workload Site reports provide summary data for the following events: Referral First Contact (First Contact with FDLRS Date), Transition (Transition Meeting Date or Part C to Part B Referral Date), Screening (Final Result Date), Evaluation (Evaluation Completion Date), Exceptional Student Education Eligibility (ESE Eligibility Date), and Individual Education Plan/Individual Family Service Plan (IEP/IFSP Date). The Workload Site report provides summary data for the same events as the Unduplicated with the addition of Referral In (Referral In Date). The workload report counts the number of times each event occurred. The unduplicated report is based on the number of children served and indicates the total number of children who experienced each event. For example, a child with two separate completed Screening events would be counted once in the unduplicated report, but twice in the workload report.
When creating reports in CHRIS, what is the difference between performing an "And" find and an "Or" find?
All finds performed on the Reports Find screen are "And" finds by default. This means that the resulting records in the found set must meet the criteria selected in all sections. The OR option can be used to create an "Or" find. An "Or" find will result in a found set that contains records meeting the criteria specified in any one of the sections. For example, if you were to perform a find on two separate search criteria, an "And" find would result in a found set of records that meet both search criteria, while an "Or" find would result in a found set of records that meet either search criteria.
Where can I go to get more help on using the CHRIS Reporting features?
The CHRIS Help Desk is always available to help you create reports or schedule you for a Reports or Advanced Reports training session. The CHRIS Reports manual contains step-by-step instructions on how to create reports and has an introductory tutorial on how to use the FileMaker tools. The FileMaker Help screens also contain information on how to create reports in FileMaker. The FileMaker Help section can be accessed using the F1 key. The CHRIS Advanced Reports manual teaches users how to use FileMaker tools to create more advanced custom reports, charts, graphs and site-specific forms. In person and/or on-line training sessions are available to all users upon request.
Training
What CHRIS training sessions are available?
The following training sessions are available: New User Training, Reports Training, Advanced Reports Training, and Data Facilitator Training. Additional information on CHRIS training sessions is available in the Training section.
How do I sign up for a CHRIS training session?
Contact the CHRIS Help Desk to schedule a training session.
Data Facilitators
What is a CHRIS Data Facilitator?
Data facilitators serve as the primary contact for CHRIS users at the FDLRS centers and serve as center liaisons to the CHRIS project. Data facilitator duties include: defining pull-down lists, controlling user sessions, requesting user authorization from the CHRIS Help Desk, assisting local users or referring them to the CHRIS Help Desk for assistance, and monitoring CHRIS project activities via the newsletter and website.
What do I need to do to be a CHRIS Data Facilitator?
CHRIS data facilitators are selected by the center manager. Data facilitators must be "hands-on" CHRIS users, comfortable with and understanding of technology, and knowledgeable about Child Find philosophy and practice (i.e., a Child Find professional). The CHRIS Help Desk strongly recommends that no more than two people from each FDLRS site serve as data facilitators.
As the Data Facilitator, how can I add a user account in CHRIS?
Only the CHRIS Help Desk can add user accounts in CHRIS. Data facilitators can request that a user account be added by completing the New User Data Form.
TAWG
The Technical Assistance Work Group (TAWG) reviews the current status of the project, establishes priorities for project activities, reviews issues and concerns raised by CHRIS users, recommends changes or modifications to current procedures and programs, and establishes policy. TAWG is comprised of two boards, the Executive Board and the Advisory Board. The primary function of the Executive Board is to provide direction to the CHRIS project and to oversee the development and maintenance of the software program. The Advisory Board is a larger group that includes at least one representative from each FDLRS center. The purpose of the Advisory Board is to review decisions made by the CHRIS staff, BEESS project contact, and TAWG Executive Board to help determine the future direction of the CHRIS project and to provide other input as needed.
Users wishing to join TAWG should contact the CHRIS Help Desk.
Data Management
If power failure occurs while I am working in CHRIS, what happens?
You will not lose any CHRIS data if the power fails at your work station while working in CHRIS. The CHRIS database is housed in Miami. Users access the database in Miami via the Internet. The CHRIS servers that contain the database are connected to an uninterruptible power supply and a generator to protect against power failure.
How often is the CHRIS database backed up?
The live CHRIS database is copied to an external hard drive 2 times per work day. Each night a copy of the most recent live backup is transferred to our Polk county backup site. Tape backup of data is done once per work day.
Timeline Guidelines
What are the guidelines for entering Timeline data into CHRIS?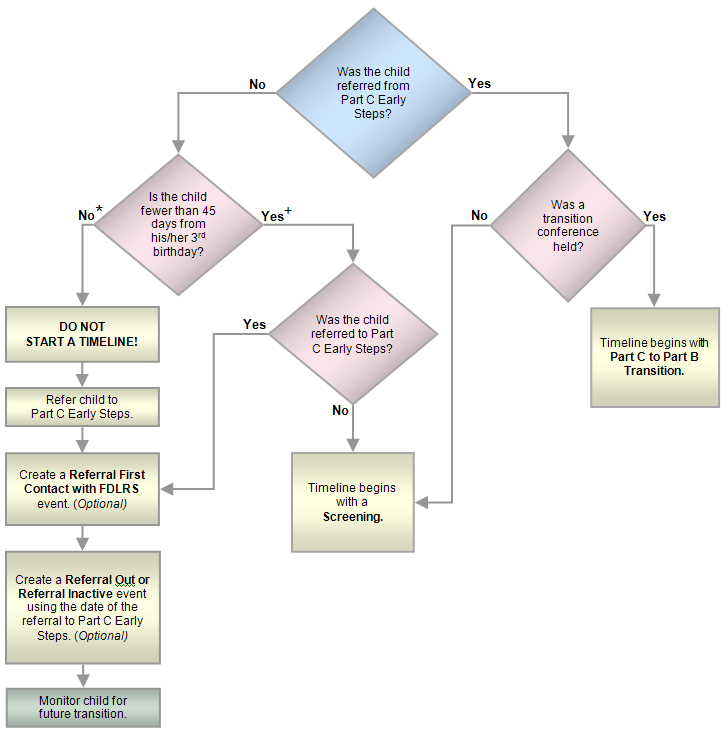 * Children who are more than 45 days from their 3rd birthday must be referred to Part C Early Steps.
+ Children who are fewer than 45 days from their 3rd birthday may be referred to Part C Early Steps. Early Steps is not required to conduct an initial Evaluation and develop an IFSP for these children. However, Early Steps may choose to complete this process.